Hey there!! Welcome to Robyn's Nest!!
Happy National Iced Tea Day!!
I hope you are having a good day so far!
The design team over at Coffee Loving Cardmakers are hopping with our teamie Dana today to celebrate!!
**Side Note**

If you come to my house, you will always be asked if you want some sweet tea.
I make gallons of this liquid gold every week.
We live in the south and you'd probably find it very hard to find a fridge without a gallon or two!!
(Channeling my inner Paula Dean accent...Ya'll" )
Here's how I was inspired!!
For my card, I used Unity Stamp Company, who are Super Sponsors of our fun Blog Hops!
I used a stamp from one of their Kit of the Month's _ have you ever seen the size of those KOM's?
What an great value!!
Look how BIG they are, too..the stamp I used is at the bottom, left

I colored the lemons with Y-00 & Y-15
and used the following for the sweet tea- E-00 & E02
I used this amazing frame fro Impression Obsession to cut out some textured vellum from Stampin Up.
Then choosing some Design Series Paper from my stash, I simply cut to fit.
The sentiment I used is my absolute favorite Southern Sayings from Paper Sweeties called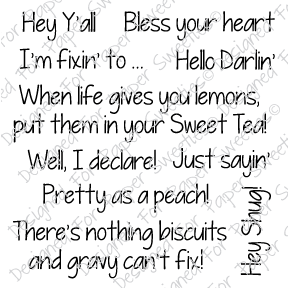 Lastly, I used some of my gorgeous sheer ribbon from Close to My Heart, I tied a pretty bow
I love how it turned out!!

Did you arrive here from Erin??
Here's a link to go back to my teamie Erin's blog below
UP NEXT IS....
I hope you are enjoying your favorite beverage today, even if you aren't a sweet iced tea fan
Inky Hugs, Robyn